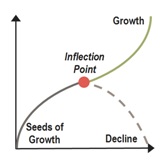 We typically begin our work with clients at an inflection point in the life of an organization:
when its leaders and senior staff are adjusting to an executive transition,

the organization is embarking on a new mission, strategy, or

when the organization is undergoing an expansion in programs, products, or funds.
We offer services in three areas:
Strategic planning facilitation                                                                                          Facilitating a disciplined effort to produce fundamental decisions and actions that shape and guide what an organization is, what it does, and why it does it, with a focus on the future.
Leadership development training                                                                                        Creating customized leadership development training programs (onsite, online, or blended).
Foundations of Leadership Theory and Practice

Leadership Development

Getting Results Through Personal Leadership

Team Effectiveness

Time and Project Management

5 Choices to Extraordinary Productivity (FranklinCovey)

Professional Communication

Understanding Behavioral Styles (Everything DiSC)

Business Etiquette

Problem Solving Through an Effective Meeting Format

Essentials of Supervision

Conflict Resolution

Business Ethics

Presentation Skills

Strategic Planning

Change Management

Emotional Intelligence

Finance for the Non-Financial Manager

Creativity and Innovation
Executive coaching                                                                                                                   Executive coaching to strengthen leadership behaviors, sharpen performance, and enhance the capacity to lead, guided by DISC Plus and the StrengthsFinder.
Copyright (c) 2018, Greystone Global LLC, All rights reserved