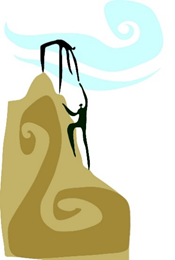 As a dissertation coach, I applaud those leaders who have chosen to embark on the journey of completing a doctorate degree! You are in pursuit of enhancing your leadership in a way few people dare to undertake.
You are pursuing the highest of academic honors; therefore, it is really hard work.
Your dissertation is an inflection point. You have two choices. You can take the seeds of growth from the years of coursework and complete your dissertation. Consequently, experience personal growth you couldn't even imagine. Or on the other hand, you can become yet another statistic for the ABDs (all-but-dissertation). ABDs make up about half of those who begin the doctorate journey.
It always seems impossible until it's done. ~Nelson Mandela
What is dissertation coaching?
Firstly, dissertation coaching is customized around your needs to help you successfully complete your doctoral dissertation, thesis, or doctoral project within your desired time frame.
Secondly, it is a system of structuring the dissertation, thesis, or doctoral project process to increase productivity so you make steady and discernible progress. I help you create a rhythm of accountability to build and maintain momentum to get your dissertation done!
Thirdly, it involves providing a sounding board to test ideas. I help you accomplish each dissertation challenge, one hurdle at a time. For example, choosing a topic, writing the problem statement, purpose statement, hypotheses, literature review, methodology, analysis, etc.
Finally, a dissertation coach helps you to engage in the right kind of planning, as a result, you keep moving forward and making progress.
When people engage in the right kind of planning, their success rates go up on average between 200 and 300 percent. ~Dr. Heidi Grant Halvorson
What does a dissertation coach do?
Coach you to
…
determine realistic short and long-term goals
manage your calendar in a way that will increase your dissertation productivity without giving up the rest of your life
make consistent progress towards meeting your goals
change behaviors and habits that interfere with your motivation and productivity
develop attention management techniques
Help you
…
select a topic that is doable
establish and maintain good working relationships with your dissertation chair and committee
build a literature review matrix before you begin writing
stay focused on the requirements of your dissertation such as the required style (i.e., APA), structure, format, etc.
clarify your methodology and analysis
develop an academic writing style
Provide you with…
tips for organization, approaches, habits, and tools to increase your efficiency and effectiveness on your dissertation journey
support and encouragement throughout the dissertation, thesis, or doctoral project process
accountability to specific daily and weekly goals
What makes a great coach? Complete dedication. ~George Halas
How does dissertation coaching work?
Dissertation coaching is delivered by telephone, Skype, Zoom, or Google Hangout.
Together, we design an overall structure for completing your dissertation.  This includes a master timeline and weekly action plans.  As a result, you develop: 1) a sense of how long it will take you to finish, then what adjustments you can make to accelerate the timeline, and  2) a clear set of tasks you can complete on a weekly and day-to-day basis.
I meet with you biweekly to review your progress. I coach you to overcome internal and external challenges, clarify and strategize your current phase in the process, and set new goals.
As a dissertation coach, I help you maintain an accurate and realistic work plan to keep you on track.
Coaching is provided through biweekly one-hour coaching sessions with a 12 session commitment. It takes this minimum amount of time to create momentum and a rhythm through regular accountability. You are welcome to continue coaching beyond 12 sessions on a month-to-month commitment.
Do you need a dissertation coach?
Do you feel overwhelmed by the dissertation process itself?
Did you benefit from the class structure with specific deadlines and now you need an external source of accountability?
Do you struggle with perfectionism?
Are you a creative person who is struggling with the structured process of writing a dissertation?
Do you work full or part-time and/or have children and that makes it difficult to find the time or energy you need to consistently work on your dissertation?
Are you tired of working hard without making progress?
Do you feel stuck? Worn out? Burned out?
Are you frustrated by your inability to build or sustain momentum?
Are you receiving inadequate support from your chair or your committee?
Excellence is doing ordinary things extraordinarily well. ~John W. Gardner
What is your field of study?
I focus on doctoral candidates who are pursuing their degree to become a better leader. That typically means you are pursuing a doctorate in one of the following fields of study:
Education
Ministry
Leadership
Administration
Business
Psychology
What are Dr. Scanland's dissertation coach credentials?
Doctor of Management (completed dissertation in 1 year)
MBA with emphasis in Marketing Research
Conducted over 100 research studies for a variety of clients including universities
Taught Introduction to Statistics and Marketing Research
Held positions in higher education administration for 10 years, including Director of Institutional Research
Adjunct Faculty, Davenport University's Institute for Professional Excellence
Certified Professional Coach (CPC) from the International Coach Academy
Certified trainer for FranklinCovey's 5 Choices to Extraordinary Productivity
Board of Directors for Baker Publishing
To schedule a free no-obligation 30-minute consultation send me a message with your preferred contact information. Or call me at 312.224.8862.

Copyright (c) 2020, Greystone Global LLC, All rights reserved