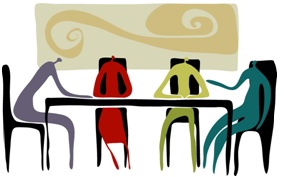 Strategic planning is used for one purpose only: to help an organization do a better job – to focus its energy, to ensure that members of the organization are working toward the same goals, and to assess and adjust the organization's direction in response to a changing environment.
In short, strategic planning is a disciplined effort to produce fundamental decisions and actions that shape and guide what an organization is, what it does, and why it does it, with a focus on the future. (Adapted from John M. Bryson, Strategic Planning in Public and Nonprofit Organizations)
Strategy is about making choices of how to apply your unique strengths to address an unmet need and utilize operational approaches that create long-term sustainability. The purpose of true strategy is to provide guidance on decision-making – especially on trade-offs and choices.
As the world we live in becomes increasingly fraught with uncertainty, and our ability to forecast accurately diminishes further, it is only logical that plans need to be able to change.
The most successful strategies in today's world are those that are flexible and adaptive. Strategy is as important as it ever was, but the practice of strategic planning is outdated and must evolve. Yet flexible does not mean constantly changing in response to every trend, challenge, or short-term economic reality. Developing strategies that provide a foundation for decision-making, but are responsive to meaningful change, requires a deep understanding of the unique and enduring strengths of an organization. It also requires a constantly evolving view of the opportunities for how and where to leverage these strengths.
Strategic planning needs to become more agile. Stages of agile strategic planning could include:
Articulate the mission, and the vision, and values.
Research the external environment and recommend a list of opportunities to pursue and threats that could prohibit the organization from achieving those opportunities.
Present the lists to members of the organization for strategic thinking and discussions.
Shortly after, assign a team to evaluate the internal workings of the organization in the context of pursuing the identified opportunities and mitigating threats. Then recommend the internal strengths to be leveraged and weaknesses to be addressed to effectively pursue those opportunities.
Present these lists to members of the organization for strategic thinking and discussions, identifying priorities for the coming 6-12 months.
Repeat steps 2-5 regularly, maybe every six months or year and document the results in an evolving strategic plan.
Client Experience
I can't say enough how appreciative I am for all of your efforts.  The work product is stunning, thorough, engaging, and effective.  Your efforts and leadership on this project will pay dividends for years to come. ~Tim Melton, JD | Chicago, IL
You have delivered one of the best strategic plans we have ever had. ~Debbie Humphrey | Oak Park, IL
You did a great job taking a lot of information that was "all over the place" and neatly categorized it into clear measurable steps, timelines, and metrics. ~Lisa Devivo | Oak Park, IL
Whenever we tell the story of our current exciting adventure to our new site, we begin with our strategic planning work with Greystone Global.  ~Ray Boersema, PhD | Denver, CO 

Copyright (c) 2022, Greystone Global LLC, All rights reserved