I want to take personal responsibility for the miscommunication. I know that's not done much these days, but I am responsible. ~General Gustave Perna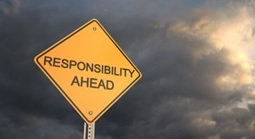 I have to admit, when I heard these words last week, "I am responsible" from the General overseeing the distribution of the COVID vaccine, I was taken aback. I honestly could not recall (and still can't) the last time I heard someone in leadership actually take responsibility on a national stage. Things happen, plans go wrong, mistakes are made. We seem to have forgotten that we really are human and that means we are fallible. If that's true, then why not just admit when things don't go as we had hoped or even meticulously planned?
One reason is that we are more concerned about our own self-image than we are the people who were harmed by our mistake. Susan Krauss Whitbourne, PhD said in Psychology Today, "It can be the ultimate expression of egocentrism, or even narcissism, to focus only on your own self-image." She goes on to explain that "by admitting the wrongdoing, you show that you value those you've harmed as much as – or more than – you value your own need to seem infallible." She concludes by saying, "Ironically, it's when you acknowledge your weakness by admitting to wrongdoing that you show your strongest side."
Stop Being Anxious and Take the Blame
Anxious leadership, according to Edwin H. Friedman, is manifested through someone who is reactive, displaces blame, seeks a quick-fix, etc. Anxious leadership only exacerbates the already anxiety-ridden culture. A leader with a non-anxious presence who is self-aware, secure, centered, an excellent listener, grace-giving, forgiving, and suspends judgment can move an organization through challenges and uncertainty with ease and confidence. 
Peter Bregman wrote in HBR (April 8, 2013): "Take the blame for anything you're even remotely responsible for." Bregman says: "This solution [taking the blame] transforms all the negative consequences of blaming others into positive ones. It solidifies relationships, improves your credibility, makes you and others happy, reinforces transparency, improves self-esteem, increases learning, and solves problems." Yet we resist.
I Am Responsible
It takes bold grace to own your blame, and that shows strength. Being defensive makes you slippery. Taking responsibility makes you trustworthy. Alexander Pope (1688-1744) famously wrote, "to err is human, to forgive is divine." Consider a 21st Century version, "to err is human, to admit is divine."
To say "I am responsible" requires bold grace. Thank you, General Gustave Perna for reminding us what that looks like.